Our Most Recent STARS OF THE WEEK!!!!
Ireland likes to play "Rock Band" on the computer, and she loves to ski. She wants to travel to Africa some day.
Caleb enjoys playing soccer and loves his pet dog, Moxie. He has done a lot of traveling and would like to visit Paris some day.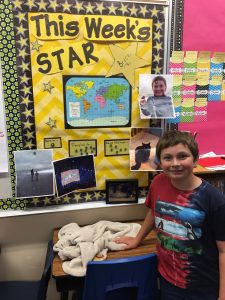 Bryce loves his visits to Lake Michigan and searching for agates while he's there. He also enjoys watching DANTDM!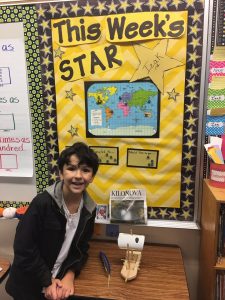 Izak likes to learn about space and participate in Cub Scouts. He hopes to travel to Japan and Egypt some day.
                                             SCIENCE: Land and Water
We've been learning about how land and water interact with each other.  In this experiment, the students were observing what happens to soil when it rains.
 Literacy:Character Study
We are learning to think deeper about the characters in our stories. After reading the story,"Fox", students worked in groups to identify the variety of traits found in the main characters. They also analyzed how these characters displayed a change in attitude and/or behavior throughout the story.
PAINTING PUMPKINS
So fun! Our gems did a fantastic job painting their mini pumpkins. They will be coming home next week. Right now, they are displayed in our classroom.